Hi,
I knew everyone has give dog toy to your dog. Basically you all select the dog toy as you like.
It is important that dog toys be safe for the dog, toys that are not safe could result in the injury, illness or death of the dog. Dog toys are not safe if small pieces can be chewed or pulled off as these could be swallowed by the dog. The toy should also be adequate for the dog, taking into consideration their size and activity levels.
Chew toys
Chew toys are a vital part of happy, healthy small animal life. In addition to providing hours of entertainment, they also allow the animal to work out anxiety and boredom through chewing, they distract small animals from chewing other "forbidden" items, and they assist in maintaining healthy teeth.
Those that perform best when it comes to durability and fun. Many of these dog toys are made for chewing and playing. Some of the toys are so cute, they are irresistible. There is nothing better than seeing your dog with a new toy!
Every dog loves toys and puppies are no exception! Puppies have special chewing needs and dog toys specifically made for teething puppies are a good choice. Some of durable dog toys are made with puppies in mind. Good puppy toys include puppy kongs, flexible dog toys, Squeaky dog toys, and fleece dog toys.
A lot of dogs we know love to chew. Trying to encourage your dog to chew on appropriate toys and not walls, furniture or shoes is easy with one of durable dog chew toys. Many of these dog toys make great dog treat toys because they can be stuffed with your dog's favorite treat. My favorite tip is to stuff Planet Dog's treat spot dog toy with cheese. It'll keep your dog busy for hours! also for older dogs that still love to play
Squeaky dog toys
Squeaky dog toys make great toys for any occasion and any size dog. We find that smaller dogs love plush dog toys and they'll chew on them for hours. Larger dogs just love getting at the squeakers inside. Browse below to find the perfect puppy toy, squeaker toy, soft dog toy or a plush stuffed animal toy for your dog. Some of these toys are so cute, they are irresistible!
Dogs love to play with their owners and if your like us, you love to play with your dog too.
You no need buy many dog toy to your dog, get the good quality dog toy made by Non-toxic material, Non-toxic coloring, it can recyclable.
The key to buying the most durable dog toys for your dog is understanding three things:
The mechanics of a dog's jaw
The physics of size & shape
Your dog's chewing
Anything becomes more susceptible when it's able to reach the back of a dog's jaw. That's where they do all their hard-core chewing. But give a dog the appropriately-sized, round,hollow ball made of super-durable Orbee-Tuff and they can chew for hours - because they cannot get it to the back of their jaws. If you have a very aggressive chewer (chews through tires, deck-posts and bricks - all of which we have heard) stick with the perfectly round shape toys.
Be sure to buy appropriately-sized toys for your dog! Not only will this ensure a longer-lasting toy,but it will keep your buddy safe from potential choking. Remember to always supervise your dogs play and immediately remove any toys at the first sign of damage.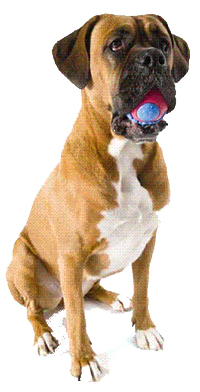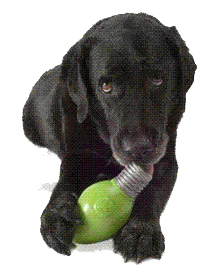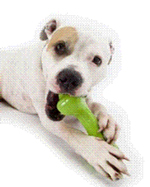 Similar topics
---
Permissions in this forum:
You
cannot
reply to topics in this forum