Below have a Treat Toy to test dog IQ, independencet and how intellgence of dog. Test for how fast, how to do, how to take out, how to get it without any help. was designed with a special Treat Spot for hiding kibble, spreads and other tasty treats dogs love, making it an interactive toy your dog can't play without. Hiding big treat, it more hard to get it! Some dog really cannot will give up. also some dog think he able to chew until broken. this dog might be stupid.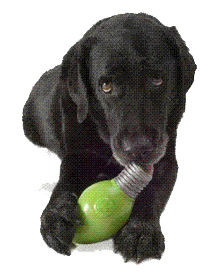 This is similar with Kong Toy. Heard some people bought it, the first few times the dog will play with it for hours because they can't get the treat. When they know where the treat is hiding, they get it out in less then 10 minutes :p
_________________
i dun think Seven will keep trying until she gets them out. she'll probably just give up after 10 minutes

hahaha
Some dogs do that. I actually DIY something like this before. I actually sew a piece of cloth to a "+" shape, and i tie up the treats inside the cloth. Another easy way, just get a towel, put the treats on it, and tie up the 4 corner together.

At first, I tie very loosely, Sushi open it in less then 1 minutes, and I slowly increase the dificulty, to 4 knots, she still can open it within 15 minutes.. Very clever. Now whenever she sees the cloths, she will jump happily towards me. Sometimes, when I really tie up really hard, she can play for very very long. A good thing to accompany her when I am out from home.

Miki on the other hand, not interested to play at all. She smells smells, then Sushi grab it away already. (I made 2 of this, Sushi opened hers and "steal" Miki's) Even I put Sushi away, and let Miki try to play with it, she only opens up the first or second knot and she able to take the treat already. Maybe because her mouth bigger LOL... but she won't chase over the cloth.
_________________
The Treat Toy have a hole on bottom side, if you put small treat or roll treat it easy to came up when shake it. If put big treat like long size, it need came out as vertical from hole, this will going challenge dog patience and intellgence. It really fun when you saw them playing. Sometime they bark the treat toy, can see,but cannot get. ahhhahahahahha
hahaha.

i do this similarly as yenlu. i make a ball with a rectangular piece of cloth with treats in the middle.

Seven loves to play that. though it never takes her more than half an hour to unwrap her treats.
That's the thing, need to increase the difficulties... wrap the ball inside another piece of cloth hahah
_________________


Similar topics
---
Permissions in this forum:
You
cannot
reply to topics in this forum